Molybdenum Supplementation for Medicine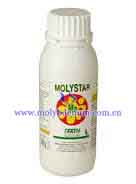 Molybdenum supplementation can take from medicine, which includes high molybdenum nutrient supplementation and various types of molybdenum supplements.When people lack of molybdenum, they can take some medicine for molybdenum supplementation. If plants are lack of molybdenum can apply molybdenum fertilizer.
But on the other hand, molybdenum is a trace mineral found in foods such as milk, cheese, cereal grains, legumes, nuts, leafy vegetables, and organ meats. The amount in plant-derived foods depends on the soil content in the growing area. Molybdenum is also present in water in varying amounts. Molybdenum is stored in the body, particularly in the liver, kidneys, glands, and bones. It is also found in the lungs, spleen, skin, and muscles. About 90% of the molybdenum eaten in foods is eliminated by the body through the urine.
If you have got any interest in molybdenum metals, please feel free to contact us by email: sales@chinatungsten.com, sales@xiamentungsten.com or by telephone:86 592 512 9696/86 592 512 9595.
Related Links: Molybdenum News & Prices