Orange Molybdenum Deficiency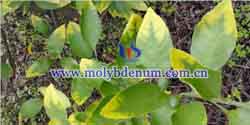 Orange molybdenum deficiency initial symptoms may appear similar to a nitrogen deficiency (yellowing of older, lower leaves). Leaves may become mottled or spotted. However, the tell-tale sign of a molybdenum deficiency is the leaves may start to display a unique orange, red or pink color around the edges which will start to move toward the center of the leaf. Sometimes the color appears in the middle of the leaves as opposed to the edges.
For orange tree plants, molybdenum tends gets locked out at lower pH ranges. Your  plant may show signs of a molybdenum deficiency if the pH at the roots is too low, although it is likely that molybdenum is there. That is because when the pH of your root zone is off, your plants cannot properly absorb molybdenum through its roots. Therefore the first step is to ensure that you have the correct pH for your growth medium.
If you have got any interest in molybdenum metals, please feel free to contact us by email: sales@chinatungsten.com, sales@xiamentungsten.com or by telephone:86 592 512 9696/86 592 512 9595.
Related Links: Molybdenum News & Prices