Molybdenum Book
Molybdenum book introduces some molybdenum related books' abstraction, including Molybdenum in Agriculture, Extractive Metallurgy of Molybdenum, Molybdenum oxide & mesoporous silica metathesis catalysts.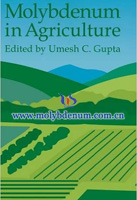 Molybdenum in Agriculture
Molybdenum (Mo) deficiencies in field-grown plants were first recorded more than fifty years ago. This book condenses all the information currently available on the subject of molybdenum as it relates to soils, crops and livestock. The book reviews our knowledge of the chemistry and mineralogy of Mo, the extraction of available Mo from various soils, the various analytical methods of determining Mo in soils and plants, the biochemical role of Mo in crop production, the technology and application of Mo fertilizers to crops, the response to Mo of various temperate and tropical crops, Mo deficiency and toxicity in various plant species, the interaction of Mo with other plant nutrients, and the distribution of Mo within the plant. Factors affecting the availability of soil Mo to plants and Mo status in the semi-arid and sub-humid tropics are also discussed.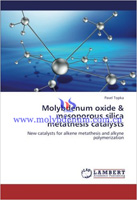 Molybdenum oxide & mesoporous silica metathesis catalysts: New catalysts for alkene metathesis and alkyne polymerization
Alkene metathesis attracted recently much attention, especially with the 2005 Nobel prize awarded for the development of the metathesis method in organic synthesis. Supported molybdenum oxide catalysts are widely used in industrial petrochemical processes, including metathesis (e.g. Phillips triolefin process, Shell higher olefin process). The present work discloses new type of metathesis catalysts based on molybdenum oxide supported on mesoporous silica. The key idea is to improve the activity of molybdenum oxide catalyst in this reaction utilizing high surface area and narrow pore size distribution of the support material. For the preparation of the catalysts, innovative and environmentally friendly thermal spreading method was employed. The thorough characterization of the catalysts by physicochemical techniques is described. The analysis of activity/selectivity vs. composition/structure relationships should help shed some light on this new and exciting field of heterogeneous catalysis, and should be especially useful to professionals in metathesis chemistry, or anyone else who may be considering utilizing molybdenum oxide catalysts for another catalytic reaction.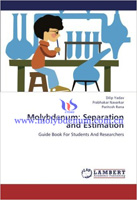 Molybdenum: Separation and Estimation: Guide Book For Students And Researchers
The book is destined to satisfy the challenging requirements of students and researchers for separation and estimation of molybdenum. In this book we have tried to give balanced, coherent and comprehensive account of the chemistry of element molybdenum, its separation and estimation. Accordingly, the book is deal not only with molybdenum chemistry but also those aspects which covers advanced separation techniques and estimation techniques. The book is directed towards advanced students of chemistry-graduates and researchers who have a special interest in separation and estimation of elements. The subject matter is distributed over 4 mutually independent chapters in such a way as to encourage individual study. Each chapter begins with a brief introduction. This is followed by brief description of topic and at last references for further study. Chapter 1 deals with element molybdenum, its brief description. Chapter 2 gives various advanced separation techniques for separation of molybdenium. Chapter 3 is on various estimation techniques of molybdenum element. Chapter 4 is main chapter which is on new method developed by authors for separation and estimation of molybdenum.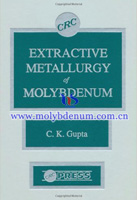 Extractive Metallurgy of Molybdenum
Extractive Metallurgy of Molybdenum provides an up-to-date, comprehensive account of the extraction and process metallurgy fields of molybdenum. The book covers the history of metallurgy of molybdenum from its beginnings to the present day. Topics discussed include molybdenum properties and applications, pyrometallurgy of molybdenum, hydrometallurgy of molybdenum, electrometallurgy of molybdenum, and a survey of molybdenum resources and processing. The book will be a useful reference for metallurgists, materials scientists, researchers, and students. It will also be an indispensable guide for world producers, processors, and traders of molybdenum.
If you have got any question or inquiry of molybdenum, please feel free to contact us by email: sales@chinatungsten.com, sales@xiamentungsten.com or by telephone:86 592 512 9696/86 592 512 9595.