Molybdenum Electrode Organization Structure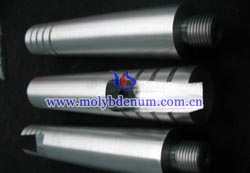 Molybdenum electrode organization structure after long-term glass furnace operation has significant changes. We can well understand molybdenum electrode organization structure change after long term operation at furnace by microscopy, scanning electron microscopy and electron microprobe observation and metallographic study, as well as the impacts of structural changes on electrode corrosion resistance properties.
Before operation the electrode is rolling state and it has a fibrous structure. Plate molybdenum electrode, the original thickness of 10mm, 375 days of work in 1450 ℃, the electrode surface was etched 1mm. Besides, electrode fracture is divided into three sections. The both sides are the oxygen diffusion layer and the oxygen content increases about 100 times before operation. Besides, the uneven surface corrosion is caused by uneven corrosion. To observe oxygen diffusion layer by scanning electron microscopy found a large spherical oxide precipitation. On the other hand, the plate molybdenum electrode used for heating installed on the bottom of frog brick of the flat glass furnace, for about three years, thickness only reduces 2mm. This is because the electrodes are not in contact with the raw material, so the electrode surface hasn't oxygen diffusion layer and has uniform corrosion.
After metallurgical studies can be found that, the molybdenum electrode after long-term work, both in raw meal or clinker are no intergranular corrosion, only have surface contact corrosion, so during operation the electrode will not peel off.
Molybdenum electrodes after long-term high-temperature operation there is recrystallization and the original fibrous structure turns into coarse equiaxed structure, but this structure at room temperature is very fragile and can not withstand the impact load, therefore, when removing the electrodes, in order to prevent breakage, the electrodes should avoid hammering.
If you have got any interest in molybdenum metals, please feel free to contact us by email: sales@chinatungsten.com, sales@xiamentungsten.com or by telephone:86 592 512 9696/86 592 512 9595.
Related Links: Molybdenum News & Prices