Tungsten Molybdenum Electrode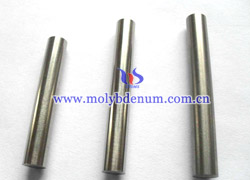 Tungsten molybdenum electrode is composed of tungsten and molybdenum and its manufacturing method is same to molybdenum and molybdenum alloy production method, which is after powder metallurgy to process processing and melting, so we can obtain different shapes electrodes, such as rods, plates, wire or other customized.
The content of tungsten and molybdenum is different, the application of tungsten molybdenum electrode also different. Tungsten molybdenum alloy containing 30% tungsten has have excellent corrosion resistance to liquid zinc, which can use for manufacturing agitators, pipes and container linings and other components in the zinc-making industry. Tungsten and molybdenum alloy has high temperature strength and properties is similar to tungsten, but the proportion is small than tungsten, so it can be used as high temperature components used in rocket, missile, tubes filament, parts and other high temperature materials.
If you have got any interest in molybdenum metals, please feel free to contact us by email: sales@chinatungsten.com, sales@xiamentungsten.com or by telephone:86 592 512 9696/86 592 512 9595.
Related Links: Molybdenum News & Prices