Molybdenum Electrode Water Jacket Installation Method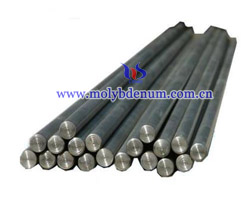 Molybdenum electrode water jacket installation method and installation method are as follows:
1. The molybdenum electrode water jacket should be placed in electrode brick before furnace operation. During operation, the electrode water jacket section can not flat with the inner wall of electrode brick, but should be recessed 60mm, so that can avoid corrosion to protect electrode and electrode brick.
2. After the electrode water jacket is installed, the concave part of the front end must also be processed into a cylindrical shape with a diameter of 106mm and a length of 60mm in the cavity by using the lightweight clay brick, which can avoid the fire to damage the water jacket.
3. In the front of the electrode water jacket should to use cylindrical graphite for block off, which can prevent the glass outflow. Graphite density is much smaller than the glass liquid, molybdenum electrode into the graphite has small resistance and after finished the graphite will float on the glass liquid level, so the high temperature air and flame loss can not pollute the glass. Besides, the outer end of graphite should use common steel pipe to tight.
4. The electrode water jacket should fix by insulator and holder.
If you have got any interest in molybdenum metals, please feel free to contact us by email: sales@chinatungsten.com, sales@xiamentungsten.com or by telephone:86 592 512 9696/86 592 512 9595.
Related Links: Molybdenum News & Prices