Top-cap Molybdenum Electrode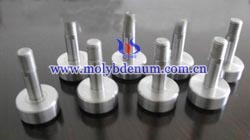 Top-cap molybdenum electrode is kind of customized molybdenum electrode, generally flat in the bottom, and the thickness can up to several tens of millimeters. Besides, the power line distribution is unique. Further it has strong stirring action to the peristaltic layer of glass bottom, which is mainly used in electric boosting furnace.
There are strict requirements on water jacket and electrode block, when to use this kind of electrode in the glass furnace, so the water consumption and heat loss of water jacket is greater than the vertical rod electrode. What's more, this kind of electrode has a strong effect on the hot spot strengthening and convection homogenization.
If you have got any interest in molybdenum metals, please feel free to contact us by email: sales@chinatungsten.com, sales@xiamentungsten.com or by telephone:86 592 512 9696/86 592 512 9595.
Related Links: Molybdenum News & Prices