Molybdenum Electrode Installation Methods
Molybdenum electrode installation methods are many, including horizontal installation (flat), vertical installation (bottom insert, ramp inserted), top installation (top plug). All electric melting furnace in accordance with the different types of glass and furnace the installation method can be mixed and common combination includes multi-group flat plug, flat and bottom plug, bottom plug and inclined plug, top and horizontal plug, top and bottom plug .
Each installation method has its advantages and disadvantages: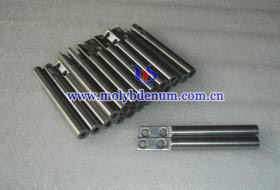 Flat plug: Advantages are widely applications, skilled operation and convenient. Drawbacks are that the electrode is easy to thin, bending and molten glass convection strongly, so it has large erosion on refractory.
Bottom plug and inclined plug: These methods are mainly used in borosilicate glass and the furnace age has less affect on electrode. Besides, it is easy to be operated. Drawbacks are the furnace structure is complex and has strict requirements on installation.
Top plug: This method can be applied to most of the glass and a variety of furnace structure and not in contacts with the lining material, so can improve the service life of the furnace. The disadvantage is the high precision of the factory operation, need regular inspection.
If you have got any interest in molybdenum metals, please feel free to contact us by email: sales@chinatungsten.com, sales@xiamentungsten.com or by telephone:86 592 512 9696/86 592 512 9595.
Related Links: Molybdenum News & Prices