Barium Molybdate
Barium Molybdate
Grade
Barium Molybdate Min
Water Content Max
1
96%
3%
2
90%
3%
3
85%
>3%
Uses: used as adhesive agent for enamel ware and desulphur agent for petrolium.
Characteristics of barium molybdate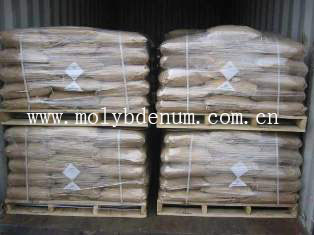 Melting point: 1600°CC
Density: 4.65g/mL at 25℃(lit)
The use of barium molybdate and Synthesis
Water Solubility:
Dissolved in 100 ml of water per gram: 6 × 10-3/20 ℃
Chemical Properties:
White or light green powder or lumps. Insoluble in water, slightly soluble in acid.
Application:
Refined and enamel for the naphtha product adhesion;
For enamel products, adhesives, strong adhesion to enamel with the iron. Can also be used to remove sulfur in naphtha.
Producing methods:
Double decomposition molybdenum concentrate by oxidation roasting, get soaked with liquid caustic soda sodium molybdate, in the stirring, the addition of barium chloride solution to the reaction of barium molybdate precipitate, precipitate by centrifugal separation, washing, drying, that was Mo Barium finished.
2MOS2+7O2→2MoO3+4SO2↑
MoO3+2NaOH→Na2MoO4+H2O
Na2MoO4+BaC12→BaMo4↓+2NaCl
If you have got any question or inquiry regarding molybdenum, please feel free to contact us by email: sales@chinatungsten.com, sales@xiamentungsten.com or by telephone:86 592 512 9696/86 592 512 9595.