Molybdenum Disilicide Heating Furnace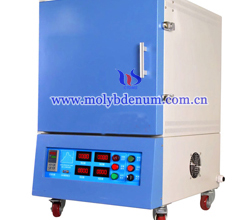 Molybdenum disilicide heating furnace usually uses molybdenum disilicide as heating element. The furnace body is two off-type cylindrical and the heating element is exposed heating structure. The furnace is made of the upper cover, lower cover and furnace body to form two semi-circular cylindrical furnaces and it can open and close along folding. Lower thermal baffle should install at the bottom of furnace and middle thermal baffle and upper thermal baffle should install at middle and upper of furnace. Insulation cover installs between the insulation panels and upper cover and fixed by vertical baffles and horizontal baffles. The molybdenum disilicide heating element is through upper thermal baffle inserted in furnace hearth. Multi-layer aluminum foil on molybdenum disilicide heating elements links with one end of electrode and the electrode is fixed on the electrode plate. The other end of electrode links with powder line of temperature control system and installs electrode cover to prevent electric shock. The thermocouple through thermocouple socket fixes in the furnace.
Small-scale Furnace(<100kW)
Large-scale Furnace(100~500kW)
Furnace Temperature(℃)
Voltage(V)
Furnace Temperature(℃)
Voltage(V)
20~150
1/3 working voltage
20~300
1/3 working voltage
150~500
2/3 working voltage
300~700
2/3 working voltage
500~operation temperature
full working voltage
700~operation temperature
full working voltage
If you have got any interest in molybdenum metals, please feel free to contact us by email: sales@chinatungsten.com, sales@xiamentungsten.com or by telephone:86 592 512 9696/86 592 512 9595.
Related Links: Molybdenum News & Prices